AHMEDABAD: Gandhinagar police nabbed five persons, including a woman, for cheating Gujarat Gaun Sewa Pasandagi Mandal or Gujarat Subsidiary Service Selection Board (GSSSB) aspirants by posing as government officers and luring them with a government job.
Interestingly, the woman Hetvi Patel — main accused of the case — was herself preparing for Gujarat Public Service Commission (GPSC) and GSSSB exams. She had appeared in various such exams in the past, said officers of Infocity police.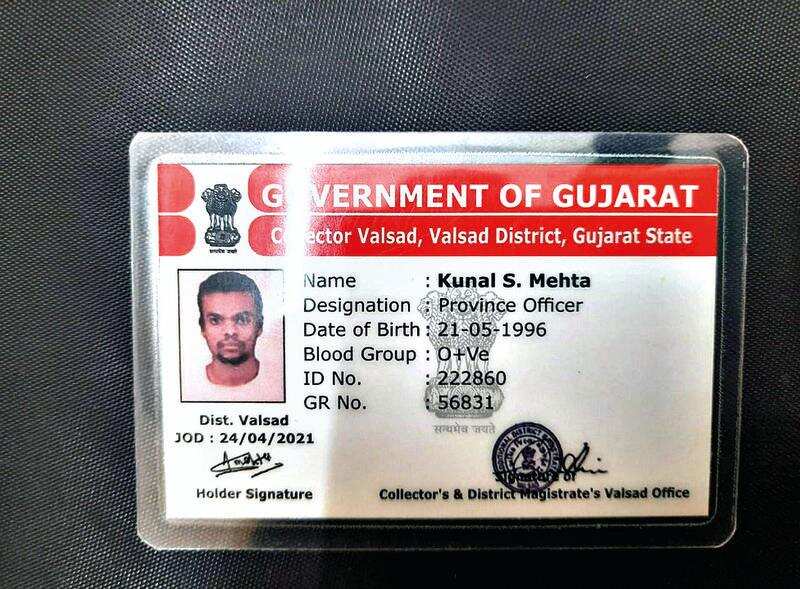 Fake ID of one of the accused
An officer of Infocity police said that Patel along with her boyfriend Niraj Garasia and two others — Bansilal Patel and Kunal Mehta — lured at least 80 GPSC aspirants from December 2020 with jobs and duped them with lakhs of rupees.
A police officer said that they got an input that Hetvi and three others stayed at a hotel in Sargasan village of Gandhinagar posing as government officers.
Cops reached the hotel and found that Hetvi had introduced herself as deputy collector of Valsad and Garasia had mentioned himself as deputy revenue officer of Gujarat government in the hotel register. Two others, Mehta and Bansilal, had introduced themselves as peons of Shah and Garasia.
Police called them outside their rooms and enquired about their designations, but they could not give any satisfactory answers and did not even provide their identity cards.
A police officer said that Hetvi told them that she could make the cops talk with a secretary in the state government. But when the cops told them to make them talk with the government secretary, they started to fumble and later confessed that they were fake government officers.
The cops said that they checked their rooms and found fake identity cards. Hetvi had two identity cards which includes a card showing her as deputy collector and another showing her as additional health commissioner.
The accused told that they got those cards from a printing press owner Pranav Patel from Gandhinagar who was also caught by Infocity police in this case.
An officer of Infocity police said that Hetvi was preparing for government exams and meanwhile she saw aspirants desperately giving money to agents to secure a job. While preparing for the exams, she decided to cheat other aspirants and earn money swiftly.
In this conspiracy, she took help of her boyfriend who came with an idea of keeping two aides whom they introduced as peons so that Hetvi and her boyfriend looked like a class-1 officer.
Police booked them under charges of cheating, forgery, impersonation and abetment and began an investigation.