AHMEDABAD: "Increase testing, hasten isolation, prevent crowds and inter-mingling of people, ensure wearing of masks and increase vaccination." On May 28, in a minuted video conference, the Union health ministry had a stern warning for Gujarat and two other states that were stricken by the deadly double mutant variants of the Covid virus (B.1.617).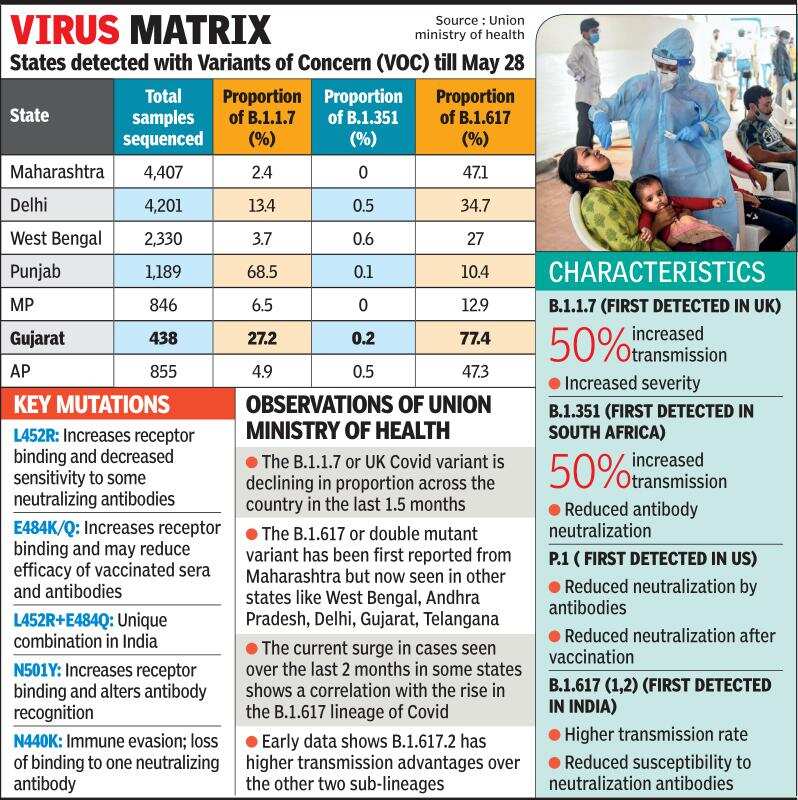 The states were told to keep their guard up and to ensure strict Covid protocols. This warning was for a reason. After UP, Gujarat had the second highest proportion of double mutant isolates — almost 77%. In Maharashtra, 47% of the samples had the double mutant Covid variant and in Delhi the figure was 35%. These two states had recorded a surge in cases and deaths.
In Punjab, 10.4% of the samples tested had the double mutant, MP showed 12.9%, West Bengal had 27%, and Andhra Pradesh's figure was 47%.
On February 2 this year, the B.1.617 double mutant was first detected in Gujarat. In a matter of days, it ripped through the state's population and became the dominant strain, thanks to the violation of Covid protocols. Also, last week, another warning was sounded when the Government of India's Indian SARS-CoV-2 Genome Sequencing Consortia (INSACOG) said that another infective strain, N440K, had been found. It was found between March and April 24 in nine of the 280-odd samples sequenced by INSACOG laboratories.
"Gujarat has been advised to strengthen public health response in areas where the presence of B.1.617 and its sub-variants was seen in high proportions," said a senior state health official. "We are hurrying with vaccinations and pressing for more campaigns for Covid protocols."
The official added, "Gujarat is among the high-burden states and has received frequent written communications from the Union health ministry." Gujarat has been told at regular intervals to impose stringent measures.
"We have been advised to maintain strict surveillance in districts reporting new Covid variants of concern (VOC)," the official said.